You are here:
Bupa Global Challenge
Bupa Global Challenge
Hong Kong,09 Oct 2011
Hong Kong people are renowned for their busy and stressful lives and generally do not spend much time and effort on exercise. However, Bupa Hong Kong is encouraging them to be more physically active, including through a charity walking event in June, when more than 800 members of the public and Bupa employees walked for health, and raised more than HK$235,000 for children suffering from heart disease.
Under its commitment to promote awareness of wellness in the community, Bupa Hong Kong organised the event as part of the group's Bupa Global Challenge, which is held each year in 11 countries around the world.
Prevent urban diseases by taking up walking
With more than 60 years of history, Bupa provides healthcare services such as hospitals, care homes for the elderly, health assessment centres and health insurance around the world. Its medical consultants suggest that regular exercise can reduce the risk of coronary heart disease, diabetes, and even colon cancer, breast cancer and lung cancer. However, an international survey commissioned by Bupa has revealed that 70 percent of people in Hong Kong do less than two hours' exercise per week, while 20 percent do none at all. This increases the risk of chronic diseases and is a situation that must be addressed and changed.
In light of this, every year Bupa organises the Global Challenge campaign in 11 countries and regions around the world, to encourage more people to include regular exercise in their lifestyle. In June, Bupa Hong Kong attracted more than 800 participants to walk a cumulative 3,000 km on treadmills at Fitness First clubs, raising funds for the Children's Heart Foundation. In addition to Fitness First as the major sponsor, Glaxo SmithKline, Mannings, Hung Fook Tong and Luxembourg Medicine Co. (Pearl's) all donated gifts to the participants to show their support.
Octogenarians practice tai chi
Since taking exercise benefits all walks of life, in June Bupa organised two activities for older people and children suffering from illness. On 14 June, volunteers from the company visited residents at the T.W.G.H. Ma Cheng Shuk Ying Home for the Elderly, and invited a tai chi master to teach some simple moves for senior people. Though most participants were over 80 years old, they all looked energetic and refreshed, including one who was over 100 years old. Staff at the elderly home said that Bupa is the first company to organise a tai chi activity there. Previously, there were only Cantonese opera or drama performances, so the tai chi activity was overwhelmingly well received.
Another activity – Walking for your Health at Ocean Park – was held on 26 June, attracting the participation of almost 60 members of the Children's Heart Foundation, together with parents of members, with priority access given to families receiving Comprehensive Social Service Allowances. Even though some of the children who participated were awaiting surgery, they were thrilled by this outdoor activity in the Sunday sunshine.
Ann Coughlan, Managing Director of Bupa (Asia), said, "I express my sincere gratitude to colleagues who take action, working together to implement the healthy lifestyle that Bupa promotes. They enthusiastically participate in volunteer work and provide care to our community. I am so proud of them. I hope that the participants will establish their own lifestyles including regular exercise through these activities, and take their 'first steps' towards wellness."
Bupa Fitness App for iPhone developed by Bupa physiotherapist
Bupa has launched a series of mobile apps for fitness, including online Quick Health Age Check and online Physical Activity Quiz, which allow people to test their fitness in real-time, and provide a wealth of useful information. Developed by a Bupa physiotherapist and designed for the iPhone/iPad, the Bupa Fitness app allows users to improve their physical fitness by following a four-week personal plan. The process is simple and suitable for all ages and all fitness levels.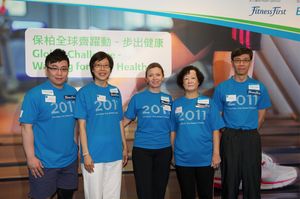 (From left) Mr Jimmy Yu, Club General Manager of Fitness First, Ms Christine Ho, Vice Chairlady of Children's Heart Foundation (CHF), Ann Coughlan, Managing Director of Bupa (Asia) Limited, Ms Jenny Cheng, Chairlady and Dr Yung, the Executive Committee Member of CHF have taken a photo during the event.