You are here:
Bupa "Send the Apple Away Day"
Bupa "Send the Apple Away Day"
Hong Kong,14 Nov 2014
The problem of central obesity becomes more common in Hong Kong. Statistics showed that more than one in four of the local population aged 20 and above is affected by central obesity. This figure should not be ignored because central obesity is one of the key contributors to heart disease.
With our purpose to help people living longer, healthier and happier, Bupa's medical directors joined hands with dietitian and sport expert to provide health information and advises to help people prevent central obesity and heart disease. A fun-filled event - entitled "Send the Apple Away Day" co-organized with Quality Healthcare, a member company of Bupa, to help people burn calories and become healthier.
On Saturday 25 October 2014, "Send the apple away Day" was held in the Hong Kong Cultural Centre Piazza in Tsimshatsui. The event commenced with a group walk "Big step towards Health" led by the management teams from Bupa and Quality Healthcare, as well as the lovely Mr. Men and Little Miss™ mascots. Lines formed at the inflatable game booths, as participants were determined to collect the most points to win prizes. The towel dance session, led by celebrity fitness trainer Orlando To and artiste Anjaylia Chan, was also a big hit amongst kids and adults alike. Free health check service by Quality HealthCare was available onsite to help participants understand their health conditions.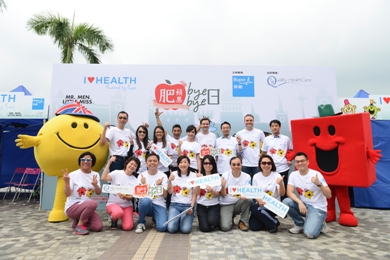 The management teams of Bupa and Quality HealthCare, celebrity fitness trainer, Orlando To & artiste, Anjaylia Chan took a photo together with our event mascots MR. MEN(TM) LITTLE MISS(TM).