You are here:
Hang Seng and Bupa break new ground in Hong Kong's health insurance market
Hang Seng and Bupa break new ground in Hong Kong's health insurance market
Hong Kong,13 Nov 2014
Hang Seng Bank and Bupa, the largest specialist health insurer in Hong Kong, today announced the launch of a range of innovative insurance products and services that will offer Hang Seng customers holistic health and wellness care.

A government survey1revealed that only 46% of people in Hong Kong enjoy medical benefits provided by their employers or are covered by individual healthcare insurance. Hang Seng and Bupa have now teamed up to cater to the need for better medical cover and specialised healthcare support by offering Hang Seng customers a comprehensive suite of health insurance solutions.

Personal health insurance offerings are structured into four tiers that collectively encompass a diverse range of customer healthcare needs, both within and outside Hong Kong. Benefits2under the four different tiers include:
。enhanced cover, including for common pre-existing conditions such as diabetes and hypertension, which are often excluded under other insurance products in the market;
。100% reimbursement for a wide range of hospital and surgical expenses under all product tiers;
。unique features such as a discount for the whole family, free child cover, additional family benefits; and
。fast and easy underwriting to provide customers with clarity and certainty about the cost and cover of their policy.
Corporate customers will be offered ready-made and bespoke corporate employee insurance schemes, allowing them to care for their employees' wellness needs through health management programmes.
Bupa's HealthPro Concierge Service is the first medical insurance service in Hong Kong to provide round-the-clock specialist healthcare support for customers, whether they are looking for advice on wellness care, managing a chronic disease or seeking pre- and post-treatment care.
A joint wellness-themed credit card is also being offered to encourage customers to adopt healthier lifestyle habits through a range of exclusive spending rewards as well as medical and healthcare services in Hong Kong.
Commenting on the announcement, Ms Rose Lee, Hang Seng Bank Vice-Chairman and Chief Executive, said: "We are delighted to have joined hands with international healthcare specialist Bupa to provide our customers with holistic healthcare solutions. These comprehensive offerings will enable Hang Seng and Bupa to meet the health coverage needs of different customers at various stages of their lives. Through our cooperation, we will be able to further enhance our ability to offer our customers premium wealth and healthcare solutions."
Mr Robert Lang, Managing Director of Bupa Global, said: "Hang Seng and Bupa have broken new ground in Hong Kong's health insurance service. These innovative products have been developed in response to customer needs, drawing on Hang Seng Bank's rich understanding of their customers, and Bupa's expertise in healthcare, here in Hong Kong and globally. For instance, we've all been in the situation where advice about a health worry is much needed – that's why we have developed the brand new HealthPro Concierge Service that will help people to stay well and feel cared for at all stages of a treatment."
Footnote:
1."Thematic Household Survey Report No 50", published by Census and Statistics Department, HKSAR Government, January 2013
2.Subject to the terms and conditions of the policy contract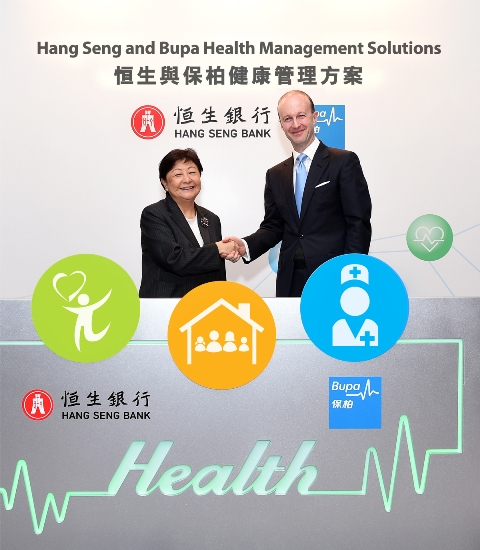 Ms Rose Lee, Vice-Chairman and Chief Executive of Hang Seng Bank, and Mr Robert Lang, Managing Director of Bupa Global, officiate at the kick-off ceremony for the launch of Hang Seng and Bupa's new range of health management solutions.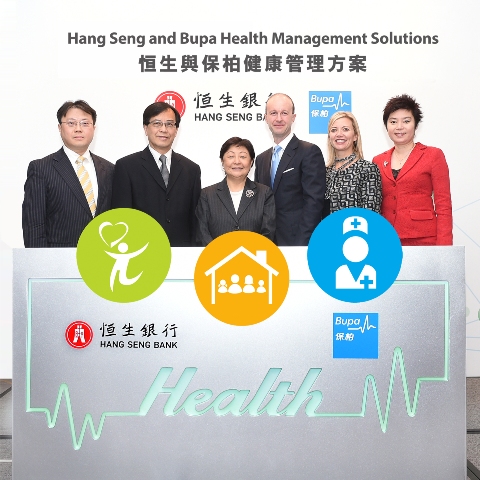 Senior executives of Hang Seng and Bupa take a group photo at the press conference for the launch of Hang Seng and Bupa's new range of health management solutions. Pictured from left to right are : Mr Wilson Tang, Head of Insurance, Hang Seng Bank, Mr Nixon Chan, Executive Director and Head of Retail Banking and Wealth Management, Hang Seng Bank, Ms Rose Lee, Vice-Chairman and Chief Executive, Hang Seng Bank, Mr Robert Lang, Managing Director, Bupa Global, Ms Ann Coughlan, Managing Director, Bupa Greater China, International Development Markets, Ms Rainbow Pan, General Manager, Greater China Region, Bupa Global.
About Hang Seng Bank
Founded in 1933, Hang Seng Bank operates around 220 service outlets serving both personal and business customers. The Bank also maintains branches in Macau and Singapore, and a representative office in Taipei.

Established on 28 May 2007, wholly owned subsidiary Hang Seng Bank (China) Limited operates a mainland China network of 50 outlets in Beijing, Shanghai, Guangzhou, Shenzhen, Fuzhou, Nanjing, Dongguan, Hangzhou, Ningbo, Tianjin, Kunming, Xiamen, Chengdu, Foshan, Zhongshan, Huizhou, Zhuhai, Jiangmen and Shantou.

With total assets of HK$1,196.0 billion as at 30 June 2014, Hang Seng Bank reported a profit attributable to shareholders of HK$8,468 million for the first six months of 2014 and HK$26,678 million in 2013. Hang Seng Bank is a principal member of the HSBC Group, one of the world's largest banking and financial services organisations. For further information on Hang Seng Bank, please visit the Bank's website at www.hangseng.com.

About Bupa
Bupa began in the UK in 1947. We fund healthcare around the world and run clinics, hospitals, dental centres, care homes, and more. With no shareholders, we reinvest our profits to provide more and better healthcare for customers.
Bupa is UK's largest health insurer.* In Hong Kong, we are known as the health insurance specialist. We have gained the trust of more than 400,000 individuals, and 3,200 companies including major corporations in public utility and telecom industry. The Hong Kong government recommends Bupa as the provider of quality health insurance for civil servants for more than 20 years in a row.
Bupa also provides primary care services through Quality HealthCare Medical Services (QHMS), one of Hong Kong's largest private clinic networks.
* Source: Laing Buisson Health Cover UK Market Report 13th Edition, published 16 January 2017, in terms of market share among private medical insurance providers