You are here:
Bupa Wellness@Work Research highlights serious presenteeism in Hong Kong
Bupa Wellness@Work Research highlights serious presenteeism in Hong Kong
Employers should enforce workplace wellness solutions for employees.
Hong Kong,27 Apr 2016
Employees spent approximately a quarter of total working days in 2015 working whilst sick, causing a productivity loss worth over HK$30 billion;
Hong Kong's millennial generation was hardest-pressed at work, and most desire more of a work-health balance;
Middle managers faced the biggest pressures on daily working life, and experienced mood issues during work.
Bupa Hong Kong today released Bupa Wellness@Work Research findings. It highlights the loss in productivity caused by staff showing up for work when unwell is substantially higher than the productivity loss from employees taking sick leave, and undermines both the well-being of businesses and the health of employees, according to a new research by Bupa Hong Kong.
The Bupa Wellness@Work Research shows that 90% of respondents were sick during the past year, with 68% of them still managing to go into work when they were ill. This practice, being at work but functioning under capacity because of illness or other medical conditions, is known as presenteeism1. Researchers said presenteeism can reduce individual's productivity by one-third or more.
On average, presenteeism accounted for 64 days, or approximately a quarter of the total working days in 2015, and represented a loss of productivity equivalent to HK$30.6 billion – approximately 1.3% of Hong Kong's total GDP2. The research findings show presenteeism is 3.4 times more costly than people taking leave when ill, which accounted for a loss amounting to HK$8.9 billion.
1 Presenteeism: At Work – But Out of It, October 2004 (Harvard Business Reviews)
2 Economic and Trade Information on Hong Kong,30 March 2016 (HKTDC)
Most employees surveyed who reported illness suffered from common ailments, such as general sickness (e.g. cold or flu, 86%), pains (e.g. headaches or neck pain, 36%) and seasonal allergies (36%). However, presenteeism is easily underestimated. Employee self-assessment indicated they went to work while sick on an average 64 days last year; yet employers estimated this number to be just 19 days.
Those who continued to go to work while sick said they considered these illnesses to be "not serious" (55%), even though adverse impacts may have been resulted, and that taking time off from work when ill would affect their work progress (47%). A significant number said they were too busy to take any time off to rest (43%). 33% of respondents said they did not want to increase colleagues' workload (33%).
However, those who showed up for work while unwell reported that there were adverse effects on their work performance and emotions:
Work performance:

felt tired and lost their passion to work (66%);
less efficient (58%);
saw work quality suffer (54%)

Emotions:

more stress (35%);
·negative emotions (33%);
thoughts of quitting job (19%)
"Our research has shown that there was low awareness on addressing minor illnesses and hidden loss of productivity was resulted. These low-grade illnesses may not be apparent, but they can actually grow worse over time if not treated. It raises the question of how much attention do we pay to our health and related conditions that may turn out to be chronic in the long run. It's important to know our health facts," said Dr. Sarah Salvilla, Medical Director of Bupa Hong Kong. "Forewarned is forearmed, so educating both employers and employees is essential to raise awareness in order to take preventative action. Employers can help by evaluating and tailoring employee wellbeing strategies to promote good health as well as combat presenteeism."
Workplace wellness solutions help attract millennials and retain middle management
According to the Bupa research, nearly 80% of millennials (aged 23-34) surveyed experienced presenteeism, which is substantially higher than the average of 68%. Of this group, 68% said they lost their passion for work and often felt tired when working whilst ill, while 43% said they became forgetful, prone to mistakes and would ignore details – a higher percentage compared with other age groups.
More millennials seek a work-health balance than the older generations. Two thirds (65%) of millennials said employers should care more about employees' health. The majority of millennials (88%) consider "health improvement programs" helpful, while 76% agree that a caring company would attract and retain talent more easily.
In terms of job level, middle management also reported a higher degree of presenteeism (71%). Nearly half (45%) of the middle managers surveyed said they were stressed and 90% reported mood issues. For example, they found it difficult to concentrate (44%), experienced increased emotional issues (24%). In fact, 47% of them said they thought about quitting their job.
"Similar to the millennials, a remarkably high percentage of middle managers agreed that workplace wellness programmes will help enhance productivity, prevent disease and improve health and morale," added Dr. Salvilla. "It is therefore important for companies to develop programmes to keep their staff healthy and productive instead of burning them out."
Increasing but unmet demand from employees for workplace wellness solutions
Eva Chan, Marketing Director of Bupa Hong Kong said: "Workplace wellness has been a focus of governments and employers internationally for a number of years, because it creates mutual benefits for both employers and employees. Workplace wellness is closely aligned with our purpose to helping people live longer, healthier, happier lives.
"We are therefore very committed to driving workplace health in Hong Kong and have commissioned this research to understand workplace health and wellness situation from both an employee and employer's perspective. We strongly believe that business has a capacity to make an enormous contribution toward enhancing the well-being of employees. And providers with medical expertise have a role to play in enforcing and coordinating the workplace wellness strategy. With all parties together, we can improve productivity and, in the longer term, benefit the community both financially and socially."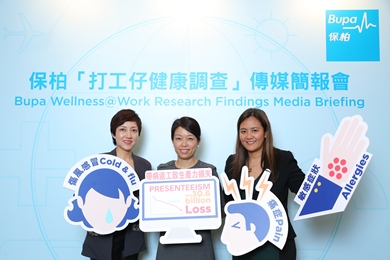 Ms. Ivy Cheung, VP, Head of Consumer Insights, Nielsen HK (left); Ms. Eva Chan, Marketing Director of Bupa Hong Kong (middle) and Dr. Sarah Salvilla, Medical Director of Bupa Hong Kong (right), shared the research findings of presenteeism in media briefing.
About Bupa Hong Kong

Bupa began in the UK in 1947. We fund healthcare around the world and run clinics, hospitals, dental centres, care homes, and more. With no shareholders, we reinvest our profits to provide more and better healthcare for customers.

Bupa is UK's largest health insurer.* In Hong Kong, we are known as the health insurance specialist. We have gained the trust of more than 400,000 individuals, and 3,200 companies including major corporations in public utility and telecom industry. The Hong Kong government recommends Bupa as the provider of quality health insurance for civil servants for more than 20 years in a row.

Bupa also provides primary care services through Quality HealthCare Medical Services (QHMS), one of Hong Kong's largest private clinic networks.

* Source: Laing Buisson Health Cover UK Market Report 13th Edition, published 16 January 2017, in terms of market share among private medical insurance providers
About Bupa Wellness@Work Research
The Bupa Wellness@Work Research was structured to ask questions about organizational policies and initiatives in key areas related to the health and wellness of employees at workplace. It provides Hong Kong employers with an insight into the policies, procedures and practices, which workplaces in Hong Kong are engaging in to support the wellness of their people, and the health of their organisations.
The Bupa Wellness@Work Research is based on online interviews with 1,433 employees aged 23 to 64 years old, and online and telephone interviews with 305 human resources decision makers and influencers in their corporations with employee size of at least 20. The quotas applied reflect working population and company distribution in Hong Kong.
The latest research was conducted between January and March 2016 by Nielsen, a leading global performance management company.
Ernest Chan / Bella Chan
+852 2517 5631 / 2517 5155
ernestc@bupa.com.hk / bellac@bupa.com.hk
Sadie Lam
+852 2586 7836
sadie.lam@fleishman.com