You are here:
Bupa announces planned market entry into China's healthcare
Bupa announces planned market entry into China's healthcare
International healthcare group to open two new facilities within Guangzhou's central business district in 2017, catering to local customers
Shanghai ,07 Dec 2016
Bupa, the leading international health and care group, today announced its planned market entry into China's domestic healthcare provision sector, by opening two wholly-owned integrated medical centres in Guangzhou in 2017, a first for a British healthcare group.
The announcement was made alongside the 2016 UK-China People to People Dialogue in Shanghai, the Government to Government dialogue led by Li Bin, Minister of the National Health and Family Planning Commission, and Jeremy Hunt, UK Secretary of State for Health.
Dr Joseph Soon, CEO of Quality HealthCare, part of the Bupa group, said: "Bupa is excited to announce our intended entry into China's domestic healthcare provision sector. We are opening two world-class integrated medical centres in Guangzhou in 2017, through which we will set the highest standards of health and care for local patients accessing our facilities. We have drawn on Bupa's considerable expertise in Hong Kong and internationally to develop the clinical models, digital services and customer offerings for these facilities. We are grateful for the support and engagement we have received from all levels of the Government in Guangdong Province and are looking forward to welcoming our first customers in 2017."
Dr. Soon continued, "These integrated medical centres will further cement and support our strategy to grow in the Pearl River Delta with our partnership with Hang Seng Bank."
Bupa is the first British healthcare company to announce plans to operate wholly-owned healthcare facilities in China, enabled through the Closer Economic Partnership Arrangement (CEPA) between Hong Kong and China. Bupa acquired Hong Kong's largest clinic network, Quality HealthCare Medical Services Ltd, in October 2013 and is investing in its planned China operations via its Hong Kong subsidiary.
Bupa's first two wholly-owned integrated medical centres will focus on serving local Chinese customers in and around Guangzhou, within the Central Business District in Tianhe and Yuexiu Districts. Bupa's longer-term commercial development will focus on the Pearl River Delta.
The integrated medical centres will aim to set world class standards for high quality, patient-centred care in Guangzhou, drawing on Bupa's leading health clinic business in Hong Kong as well as its international health and care experience across the UK, Australia, Spain, Chile and Poland. Bupa has also conducted extensive consumer research on Guangzhou customer needs and challenges in accessing the local healthcare system.
The key differentiating features of Bupa's proposed integrated medical centres include:
International expertise and partnerships -

Bupa's international footprint of hospitals and medical centres, including in the UK and Spain and Hong Kong, enables it to share international medical expertise and deliver evidence-based best practice care for customers. This includes offering customers a second opinion for chronic conditions such as cancer and engaging them in shared decision-making

1

. Bupa's academic partnership with Dartmouth College brings access to the latest clinical trends and training.




1Shared decision-making is a process in which patients are involved as active partners with their doctors in clarifying acceptable medical options and in choosing a preferred course of clinical care. [Sheridan SL et al. Shared decision making about screening and chemoprevention: a suggested approach from the U.S. Preventive Services Task Force. American Journal of Preventive Medicine

Patient-centric customer experience -

The integrated medical centres will provide a unique experience for customers through a personalised healthcare service from consultation, treatment and post-treatment follow-up to recovery. It will introduce advanced health technologies including offering DNA testing to ensure individualized care. Concierge and hospitality training will help deliver a world-class customer experience, with Bupa's Service Ambassadors in the centres ensuring each patient is supported during their time at the centres, and after they leave. The integrated medical centres will be equipped with their own pharmacies and the latest medical equipment integrated health services under one roof.



Digitally-enabled experience -

Bupa's paperless integrated medical centres will enable the most convenient and digital experience both for customers and in the centres' administration. Bupa's dedicated mobile app and website will empower customers to arrange their appointments, manage their family medical information on a real time basis, make payments and receive personalised health content on their mobile devices anytime, anywhere.
The Rt. Hon. Jeremy Hunt MP, UK Secretary of State for Health, said, "This announcement is a great example of UK and China collaboration on healthcare, where both countries have much to learn and to offer each other. The UK Government will continue to encourage and support organisations from across the United Kingdom's healthcare system to come to China to share their skills, expertise and experience with local partners".
Deborah Kobewka, Managing Director of Healthcare UK, said, "I am very pleased to learn that Bupa is entering the Chinese health provision market. The integrated medical centres Bupa will open next year represent a major step in British healthcare companies' development in China, one of the fastest growing healthcare systems in the world. Bupa is an international success story of the British healthcare sector, and I look forward to seeing Bupa and more British companies making further successes in China".
Mr. Wu Yi, Director-General of Guangzhou Municipal Board for International Investment, commented positively on Bupa's market entry, "We highly welcome the fact that Bupa has chosen Guangzhou as the first place of their investment into China's health provision industry. As a leading international health and care group, Bupa will not only bring in capital, technology and advanced management skills, but also enable local residents to enjoy healthcare services with international standards. Bupa's entry will contribute to the development of local healthcare system in Guangzhou as well as in the region, making the city a more appealing destination for investments. Meanwhile, we are also looking forward to Bupa's further investments into China's health insurance market, cementing its commitment to a long-term development in the Pearl River Delta."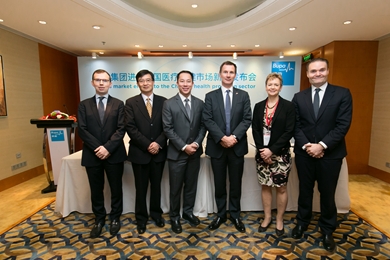 Jeremy Hunt, UK Secretary of State for Health gave a speech at the press conference, this is the group photo of Bupa senior executives and UK government representatives. From left to right are Mr. William Brocklehurst, Head of Corporate Affairs, Bupa International Markets; Mr. Barry Chan, Business Development Director of Bupa International Markets; Dr. Joseph Soon, CEO of Quality HealthCare Medical Services; Mr. Jeremy Hunt, UK Secretary of State for Health; Ms. Deborah Kobewka, Managing Director of Healthcare UK; Mr. Gerhard Zielinski, Programme Director of Bupa China
About Bupa
Bupa began in the UK in 1947. We fund healthcare around the world and run clinics, hospitals, dental centres, care homes, and more. With no shareholders, we reinvest our profits to provide more and better healthcare for customers.

Bupa is UK's largest health insurer.* In Hong Kong, we are known as the health insurance specialist. We have gained the trust of more than 400,000 individuals, and 3,200 companies including major corporations in public utility and telecom industry. The Hong Kong government recommends Bupa as the provider of quality health insurance for civil servants for more than 20 years in a row.

Bupa also provides primary care services through Quality HealthCare Medical Services (QHMS), one of Hong Kong's largest private clinic networks.

* Source: Laing Buisson Health Cover UK Market Report 13th Edition, published 16 January 2017, in terms of market share among private medical insurance providers

Hill & Knowlton (China) Public Relations Co., Ltd., JoJo Chen
+86 21 2287 1762/ +86 182 0180 7752
Jojo.chen@hkstrategies.com
Bupa (Asia) Limited, Corporate Affairs, International Markets, Josephine Wong
+852 2517 5724/ +852 6026 8739
josephinew@bupa.com.hk