You are here:
Bupa Hong Kong partners with Tictrac
Bupa Hong Kong partners with Tictrac
Hong Kong,03 Nov 2020
Bupa Hong Kong partners with Tictrac to power its
new wellness app Bupa4Life
Engaging and supporting users in Hong Kong with their health and wellbeing
Bupa Hong Kong, a leading health insurance specialist, has partnered with global health engagement company, Tictrac, to bring Bupa4Life to Hong Kong, a new wellness app that helps customers understand their health conditions and encourages them to make positive lifestyle changes.
The mental and physical health problems have been exacerbated by Hong Kong's fast-paced lifestyle, with 20% of the city's employees working an average of 11 hours a day in 20181, or experiencing a decline in mental health due to COVID-19, with nearly half of Hongkongers noting the effect it is having on them2.
Bupa4Life empowers people to take control of their wellbeing. Using Tictrac's comprehensive engagement platform, it provides Bupa Hong Kong's corporate customers and individuals with a digital companion that helps them adopt and maintain a healthy lifestyle.
Users will benefit from a range of compelling in-app features that help them to analyse, achieve, assist and award their health and wellbeing needs. To begin, an online health assessment can be completed in just five minutes (Analyse). Users are then encouraged to set action plans and take up tailored monthly challenges to achieve their health goals (Achieve). A daily activity tracker can track their progress. Users will also have access to rich, interactive content which provides daily inspiration, such as health hacks, recipes, and exercise techniques from leading health and wellbeing contributors, and join health events, talks and classes organised by Bupa Hong Kong throughout the year (Assist). A reward programme recognises progress and motivates users to maintain their healthy lifestyle (Award).
Andrew Merrilees, General Manager, Bupa Hong Kong, commented: "After a really tumultuous year, Hongkongers are experiencing greater stress-related health issues. This is why we are stepping up our support to our customers by providing them with the tools they need to improve their health, all in the palm of their hand.
"Tictrac has enabled us to innovate at speed, taking our existing wellness proposition to the next level and providing a complete digital wellness experience. With Bupa4Life, we're able to connect people with holistic health and wellness support while having fun, anytime, anywhere."
Martin Blinder, CEO and founder, Tictrac, said: "We are committed to improving the health and wellbeing of communities all around the world. We feel honoured to be partnering with Bupa Hong Kong in providing Bupa4Life to their members, empowering people to lead healthier and happier lives.
"Through our platform, Bupa's corporate customers can now support their employees in pursuing a healthy work-life balance and encourage them to improve their lifestyle both in and out of work. Individual users will benefit from Bupa Hong Kong's personalised plans and content to help them become healthier in the long-term."
Tictrac's platform has been cleverly designed to seamlessly fit into an individual's daily lifestyle to deliver lasting behaviour change. It uses behavioural science techniques to identify trigger points where extra motivation may be required, and provides fresh and engaging content to keep users engaged each day. Bupa4Life makes it easy for users to track their activity, whilst supporting and rewarding them with access to tailored health and wellbeing content, products and services, all in one single platform.
Bupa Hong Kong recently launched the "Feel Better" Mental Health Campaign 2020 to make mental health support and services more accessible, enjoyable and sustainable in the city, including the gradual extension of mental health coverage to Bupa policies. The Bupa4Life platform complements the company's strategy to further support members with their holistic health.
Bupa Hong Kong has also launched the Bupa4Life promotional campaign, introducing actor and former Olympian Alex Fong as Bupa4Life ambassador, who appears in a TV commercial, followed by widespread exposure across social media platforms, outdoor advertising and more, to promote healthy living inside and out.
1
Long working hours: 1 in 5 Hong Kong employees are on the job an average of 55 hours per week, new trade union study shows: https://www.scmp.com/news/hong-kong/hong-kong-economy/article/3006116/long-working-hours-1-5-hong-kong-employees-are-job (14 April 2019)
2
Press Release: Mind HK launches new mental health initiatives in response to COVID-19: https://www.mind.org.hk/press-releases/august2020pressrelease (13 August 2020)
For more information about Bupa4Life and view the TV commercial, please visit: https://www.bupa.com.hk/en/bupa4life
Download Bupa4Life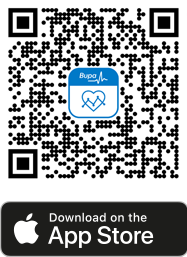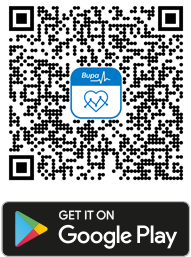 Bupa – A global healthcare specialist
Bupa began in the UK in 1947. We fund healthcare around the world and run clinics, hospitals, dental centres, care homes, and more. With no shareholders, we reinvest our profits to provide more and better healthcare for customers.
Bupa is the UK's largest health insurer.* In Hong Kong, we are known as the health insurance specialist. We have gained the trust of more than 400,000 individuals, and 3,200 companies. We have provided quality health insurance for Hong Kong's civil servants for more than 20 years.
Bupa also provides primary care services through Quality HealthCare Medical Services (QHMS), one of Hong Kong's largest private clinic networks.
Bupa Global is the international health insurance arm of Bupa, serving 2 million customers around the world. We provide products and services for globally minded and mobile people who want the most premium coverage and access to the healthcare they need anytime, anywhere in the world, whether at home or when studying, living, travelling or working abroad.
* Source: Laing Buisson Health Cover UK Market Report 16th Edition, published June 2020, in terms of market share by premium income among private medical insurance providers
About Tictrac
Tictrac is a leading Health Engagement company, headquartered in London, UK. Through its Enterprise platform, it enables insurance and healthcare providers to engage their customers in their health and to tailor relevant products and services to them.
Tictrac's products provide customers with a unique combination of rich and personalised content and dynamic, themed lifestyle campaigns, programmes, and incentivised challenges, which deliver meaningful behaviour change to those who need it most. They seamlessly fit into an individual's daily lifestyle and, using behavioural science, identify trigger points where extra motivation may be required, providing fresh and engaging content to keep users inspired each day.
For more information, please visit: https://www.tictrac.com
Media Enquiry:
Hong Kong: Ruder Finn Asia

Ivy Chan

Tel.: +852 2201 6438 / +852 6686 9106

Email: chani@RuderFinnAsia.com

Jeremy Leung

Tel.: +852 2201 6458 / +852 6324 6092

Email: leungj@RuderFinnAsia.com

Winky Chow

Tel.: +852 2201 6474 / +852 9482 5148

Email: chowc@RuderFinnAsia.com

The UK: 33Seconds

Meera Trivedi

Tel.: +44778 4617 007

Email: meera@33seconds.co