You are here:
Cheese and vegetable hash browns
Cheese and vegetable hash browns
,01 Jan 0001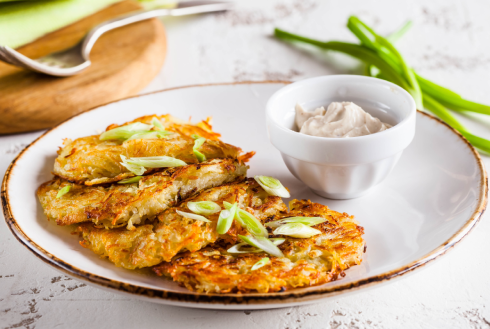 Ingredients (serves 6)
Potato: 800g
Carrot: 1
Turnip: 1
Leek: ½
Red onion: 1
Cheddar cheese: 80g
Whole-wheat flour: 1/2 cup
Parsley (chopped): ½ bunch
Ground nutmeg: a pinch
Himalayan salt: a pinch
Pepper: a pinch
Egg white: 1
Peanut oil: 1 tbsp
Instructions
1. Peel the potatoes, then grate or julienne.
2. Peel the carrot and turnip, then grate or julienne.
3. Julienne the leek and red onion into thin strips. Grate the cheese.
4. In a bowl, combine all of the above ingredients with the whole-wheat flour, chopped parsley, ground nutmeg, salt, pepper and egg white.
5. Shape the mixture into small disks about 6cm in diameter. Cook gently in a little oil for about 10 minutes in a non-stick pan.
6. Turn the hash browns over and cook for another 10 minutes until golden brown. Serve hot.
Tip
Carbohydrates like potatoes help tryptophan enter your brain. This increases serotonin levels and helps you stay in a good mood.
Sourced from Green Monday Hong Kong (greenmonday.org)