You are here:
Bupa Medical Centre
Bupa Medical Centre
In Hong Kong, the Bupa group not only provides health insurance but also operates outpatient clinics. Our group's healthcare provision business includes a variety of services such as general practitioner and specialist clinics, dental centres, traditional Chinese medicine providers and more. Our group's clinics form part of our extensive provider network in Hong Kong.
Premium integrated outpatient healthcare services
Bupa Medical Centres (see Remark 1) in Hong Kong are operated by Bupa group's healthcare provision arm, Quality HealthCare Medical Services (QHMS) to provide multiple specialist outpatient consultations, day surgeries and diagnostic imaging services. Staffed with Bupa's service assistants to provide personalised services, the centres offer another premium healthcare option for Bupa members in need. They can also enjoy cashless service (see Remark 2) with a Bupa medical card.
Situated in prominent business or residential districts, Bupa Medical Centres provide Bupa members with easy access to medical facilities and services. They also draw on international standards in providing medical services to the local community. The Bupa group is experienced in operating medical clinics in different regions, including the UK, Spain, Poland, Australia and Chile, as well as Hong Kong.

Privileges exclusively for Bupa members
Cashless service with your Bupa medical card
If you have a Bupa medical card and eligible clinical benefits, you can enjoy cashless service (see Remark 2) at Bupa Medical Centres, without the hassle of submitting claims afterwards.
Member privileges for selected services
If you don't have a Bupa medical card or eligible coverage, you can still enjoy member privileges for selected services at Bupa Medical Centres. For details and booking, please call our Premium Service Booking Hotline at 2517 5515.
End-to-end support from Bupa's service assistants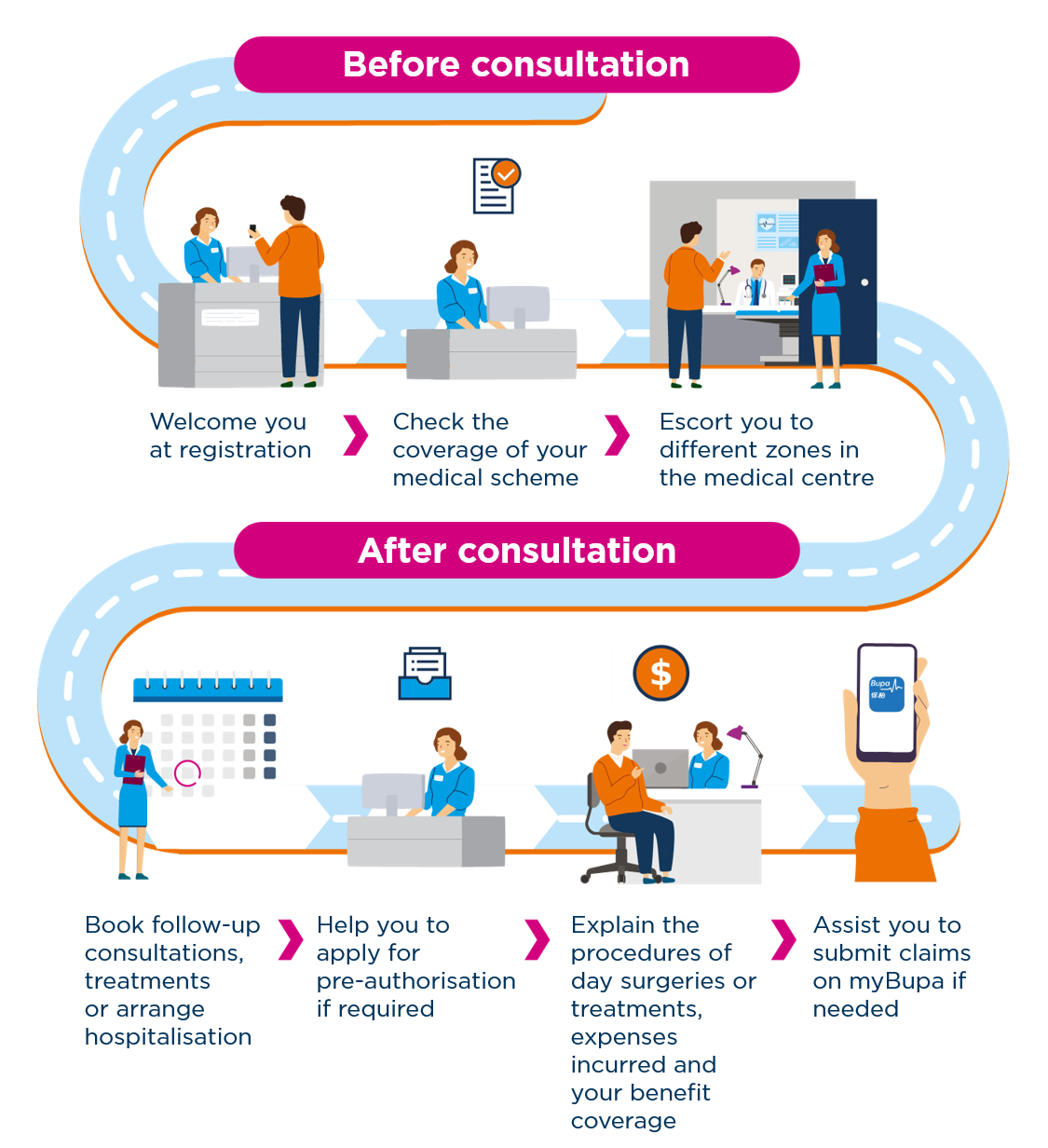 The above summary of our insurance products is for reference only. It is not, and does not form part of, a contract of insurance and is designed to provide an overview of the key features of these products.
Talk to usContact our health management consultant to get details and advice.
2517 5860
Mon-Fri 9am-9pm (except public holidays)