You are here:
Orange, cranberry and ginger cookies
Orange, cranberry and ginger cookies
,01 Jan 0001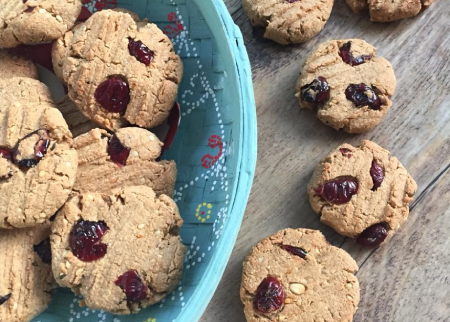 Ingredients (makes 18-20)
Oatmeal flour: 2 1/2 cups
Coconut palm sugar: 1/3 cup
Shelled hemp seeds: 1/4 cup
Dried cranberries: 1/4 cup
Orange peel: 1-2 tsp
Fresh ginger (minced): 1-2 tsp
Sea salt: a pinch
Coconut oil: 1/2 cup
Water: 1/2 cup
Instructions

1. Put flour, sugar, hemp seeds, cranberries, orange peel, ginger and salt into a large bowl, combining well.
2. Stir in oil and water; mix to form a soft dough.
3. Roughly divide dough into 18-20 pieces. Shape into balls. Place on a baking tray and press down with a fork.
4. Bake in a preheated oven at 225°C for about 20 minutes or until lightly golden brown. Serve warm or cool.
Tip
Replace flour with oatmeal flour. It increases the fibre content and lowers the glycaemic index of the cookies.
Sourced from Green Common Hong Kong via Vegan Mama Kitchen (facebook.com/VeganMamaKitchenHK)