You are here:
Bupa offers COVID-19 vaccination side-effect protection
Bupa offers COVID-19 vaccination side-effect protection
Hong Kong,22 Feb 2021
Bupa offers COVID-19 vaccination side-effect
free hospital cash protection to support members
Existing COVID-19 coverage and supportive services
will also be extended through 30 September 2021
The commencement of COVID-19 vaccination programmes is a sign of hope for the global community as we look towards recovery and growth from the coronavirus pandemic. As Hong Kong's leading health insurance specialist, Bupa Hong Kong today announced COVID-19 vaccination side-effect free hospital cash protection and coverage of treatment for any related side effects for its members. With the launch of the post-vaccination protection, the special protection period for existing COVID-19 supportive measures will also be extended through 30 September 2021.
Bupa is committed to being a trusted healthcare partner, giving every member peace of mind in their healthcare journey. From 10 February 2021 until 30 September 2021, we will provide our members with broader protections covering approved COVID-19 vaccination which include:
COVID-19 vaccination side-effect free hospital cash protection
Eligible Bupa members1 can receive daily hospital cash protection of HK$800 if confined to a hospital as recommended by a registered medical practitioner for at least six hours due to side effects experienced within 14 days of vaccination. The benefit is payable for up to 45 days and will be provided free of charge on top of any existing hospital cash coverage.
Expenses for hospitalisation and consultation due to side effects
If members experience any side effects after receiving the COVID-19 vaccine, all eligible hospitalisation and consultation expenses will be covered under the Hospital and Surgical Benefit and/ or Clinical Benefit according to the terms of the member's plan.
"We welcome the roll-out of the COVID-19 vaccines in Hong Kong and look forward to better days ahead", said Andrew Merrilees, General Manager, Bupa Hong Kong. "While the impact of the pandemic has been challenging, our role as a healthcare partner has never been more important over the past year. Bupa has been supporting people in Hong Kong since the outbreak of the pandemic by launching special protection for COVID-19. As we expand these protections with the introduction of our post-vaccination coverage, we hope that our members will feel greater assurance as they opt for the new vaccines. We continue to enhance our products and services to provide them with the support they need during these unprecedented times."
Since January last year, Bupa has rolled out a series of supportive measures for COVID-19 to provide additional protection for customers. Our 24-hour Healthline (2517 5358) supported by qualified nurses is also available to provide members with assistance and health advice related to COVID-19. Bupa members can enjoy the enhanced coverage and supportive services during a special protection period, which will now be extended to 30 September 2021.
For more information, please visit https://www.bupa.com.hk/coronavirus/.
1Existing members of both Bupa or Hang Seng Bupa Individual or Group Medical Hospitalisation Insurance Plan are eligible for this benefit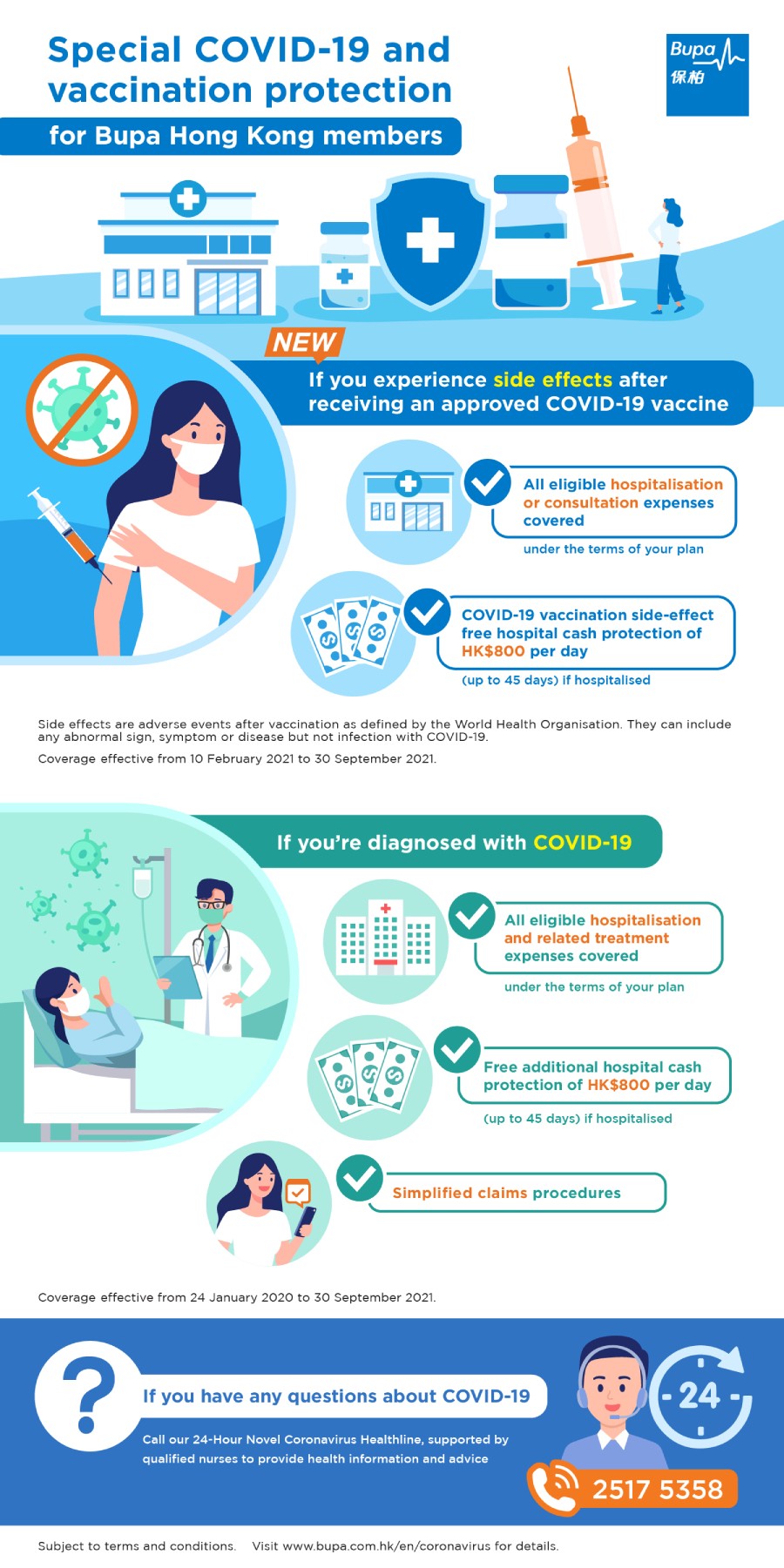 Bupa – A global healthcare specialist
Bupa began in the UK in 1947. We fund healthcare around the world and run clinics, hospitals, dental centres, care homes, and more. With no shareholders, we reinvest our profits to provide more and better healthcare for customers.
Bupa is the UK's largest health insurer.* In Hong Kong, we are known as the health insurance specialist. We have gained the trust of more than 400,000 individuals, and 3,200 companies. We have provided quality health insurance for Hong Kong's civil servants for more than 20 years.
Bupa also provides primary care services through Quality HealthCare Medical Services (QHMS), one of Hong Kong's largest private clinic networks.
Bupa Global is the international health insurance arm of Bupa, serving 2 million customers around the world. We provide products and services for globally minded and mobile people who want the most premium coverage and access to the healthcare they need anytime, anywhere in the world, whether at home or when studying, living, travelling or working abroad.
* Source: Laing Buisson Health Cover UK Market Report 16th Edition, published June 2020, in terms of market share by premium income among private medical insurance providers
Media Enquiry:
Ruder Finn Asia

Jeremy Leung

Tel.: +852 2201 6458 / +852 6324 6092

Email: leungj@RuderFinnAsia.com

Ivy Chan

Tel.: +852 2201 6438 / +852 6686 9106

Email: chani@RuderFinnAsia.com

Winky Chow

Tel.: +852 2201 6474 / +852 9482 5148

Email: chowc@RuderFinnAsia.com

Bupa (Asia) Limited

Corporate Affairs

Annie Jin

Tel.: +852 2517 5724

Email: annie.jin@bupa.com.hk