You are here:
Mental wellbeing game and resources
Mental wellbeing game and resources
To celebrate World Mental Health Day, we've launched a series of practical toolkits and a card game to help you, your family and friends boost your mental wellbeing.
Wellbeing Card Game: 'Let's Break It Down' (Chinese name known as「 反應大師」 )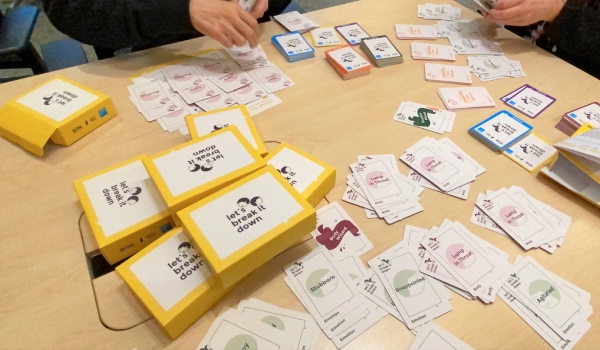 'Let's Break It Down' aims to encourage conversation between young people and their families through games. We co-created with our community partner KELY Support Group based on the Hot Cross Bun model, a popular psychology methodology. The theory helps players express their emotions, break down their body reactions and behaviours with the use of different response cards. Importantly, it is a fun way to get to know each other and build a connection with those around you.
"(let's beak it down card game) It's a simple and user-friendly tool to help my clients to engage in thoughtful conversations, regardless if they come from different cultures, background, and ages. I've used it to facilitate discussions with families who have teenage children over the past several weeks with great feedback. The wording is easy to understand and the scenarios are realistic.' – Ms. Kate Tong, Registered Psychologist.
Through engaging different scenarios, participants will learn how others process their responses as well as reflecting on upcoming challenging situations. It is a good check-in exercise for individuals to explore what scenarios affect them more than others.
Behind the Scenes
The card game was developed with young people who have experienced their mental health journey. Find out more.
Wellbeing Toolkit
To make it easier for young people to talk about their mental health and access help when they need it, we've also launched two stress management video modules for them. The videos aim to empower young people and the community to take care of themselves anytime, anywhere.
Module 1: Stress and CBT
The 5-minute video explains how cognitive behaviour therapy can help manage stress and how people can apply it to their daily lives.
Module 2: Keeping Stress in Check
The 4-minute video explores ways to manage stress and promote a balanced lifestyle.
With thanks to our community partners:
The above summary of our insurance products is for reference only. It is not, and does not form part of, a contract of insurance and is designed to provide an overview of the key features of these products.
Talk to usContact our health management consultant to get details and advice.
2517 5860
Mon-Fri 9am-9pm (except public holidays)